Promotional Ideas For The Outside Of You Store.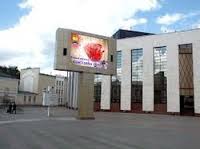 Whether it's Christmas or the New Year, Halloween or Easter; all businesses, big or small seem to be promoting their stores. That's not to say that the times in between should not be promoted. If you own a small business, chances are that you are looking for tips and ideas, for promoting your store.
Promoting within the store (with deals and such), and online (through social media) is a given now; and most people and stores do this. But it seems like with the advancing of technology, people have forgotten and given up on the more traditional advertising methods.
If you have a little space outside your store, then you can make use of these traditional methods of advertising and promoting, right outside the store.
Handing out fliers.
Does it feel too traditional and old fashioned? No problem. As it's almost a "lost art", chances are that even your potential customers will be intrigued by the fliers. Try not to make the fliers with extremely cheap paper, or printed in black and white. Have a few of your most charming employees stand outside the store with the fliers. If you can afford to, give out little "promotional gifts" with the fliers.
Bill boards and sign boards are mostlyused away from the store, to attract customers from a distance to the store. But if you look for outdoor LED screens, you can promote your store right from the store's front entrance.
outdoor LED screens can be used to promote special deals in your store too. Try to make the message or deals on the screens very attractive.
Use live entertainment to attract customers.
Live entertainment is a very good way to attract customers around your store. If you hire a live band, chances are that the music will be able to attract customers in. As music carries in the wind, your advertising sort of carries in the wind too. This particular method works very well when promoting cafes and restaurants; especially if they have outdoor seating areas.
The less traditional; yet still effective.
Our last promotional method may not be traditional, but it's still affective. Everyone likes "seasonal raffle draws" and every one likes taking selfies. This advertising method combines the two. Set up a photo booth outside the store. Ask customers passing by to take a selfie in the photo booth and upload it into your store's social network page. The most amount of "likes" or even a random photo will be chosen as the lucky winner. You can even set up the "booth" inside the store; just have one of your employees stand outside and tell customers about this offer as they pass your store…